Travel Safely and Comfortably with Pets this Holiday Season!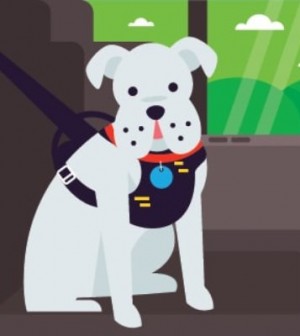 Ghergich and PetCo have teamed up a few times to create wonderful graphics and blog posts that we can share with you; their latest is about traveling safely and comfortably with pets this holiday season.
Read this post from veterinarian Lisa Weeth and check out the cool infographics that accompany the post below. Safe travels!
From the PetCo Community blog:
Holidays are for spending time with family and friends—whether they have two legs or four. For those of us living with canine companions, traveling for the holidays can pose extra challenges—but it's nothing you can't handle with a little planning and preparation. Read on to travel more smoothly, safely and comfortably with your dog.
Decide if your dog will stay or go
Before you book pet-friendly accommodations, decide whether traveling with your dog is the right choice for your family and your dog. Taking an 8-hour road trip with a pet that gets carsick after a 10-minute ride to the dog park may not be the wisest option. And if your dog is fearful of new places, people or other pets, it may be best for them to stay behind with a trusted sitter or boarding kennel. But, if your dog is an eager explorer and frequent travel companion, there are a few precautions you can take to help ensure everyone has an enjoyable time away.
Start with your destination in mind
Many hotels, lodges, B&Bs and campsites are happy to accept pets (often with a security deposit), but it is important to read and understand your accommodation's pet policy before you make your reservation. This is especially true if you choose to stay with friends or family. Talk with your host before finalizing your travel plans to make sure they are willing to house both you and your dog. If there is any hesitation, offer to stay at a nearby pet-friendly hotel or B&B, or consider leaving your dog at home with a trusted sitter or boarding kennel.
Determine how you will you get there
When traveling by car, look over your route ahead of time so you can plan frequent exercise and bathroom breaks. To help minimize carsickness, feed your dog at least three to four hours before you head out. Then give them plenty of time to use the bathroom one last time before you get in the car. If your dog gets nauseous or anxious during long car trips, you can discuss anti-nausea or anti-anxiety medications with your veterinarian. To help your pet with anxiety, there are also calming aids available—including wraps, collars, sprays, diffusers and supplements.
Once the car is all loaded up and you're ready to head out, there are some important guidelines to remember. Dogs should never be allowed ride loose in the open bed of a truck. Even when traveling in a closed car, truck or sports utility vehicle, securing your dog in a crate will be safer for them and you. Keep the car well-ventilated and at a comfortable temperature. When you need to stop, never leave your dog in a closed car, no matter what the weather is like. For more car travel tips with your pet, check out this article.
For air travel, check with the specific airline about travel requirements for pets (a good starting point is the Federal Aviation Administration's website) and book your dog's flight at the same time you book yours. The airline may have limits on the number of animals that can ride on any given plane and whether animals can ride in the cargo hold versus in the cabin. And for dogs that are too big to ride in the cabin, the airline may restrict travel during certain times a year, especially if temperatures are expected to exceed 85 degrees Fahrenheit or fall below 45 degrees Fahrenheit. For domestic flights, airlines may require a veterinarian-issued health certificate dated within 10 days of travel. International travel may involve additional documents and vaccinations depending on your destination. Purchase an airline-approved crate that's large enough for your pet to stand, sit and turn around in. Mark the crate with "Live Animal" plus your contact information and a photo of your pet and attach two dishes (one for food and one for water) to the inside of the kennel door.
Some trains, busses and boats allow pets, though options are fairly limited. Research rail and bus company policies before booking tickets, or consider traveling by car or plane instead.