Can you help turn Gypsy's luck around?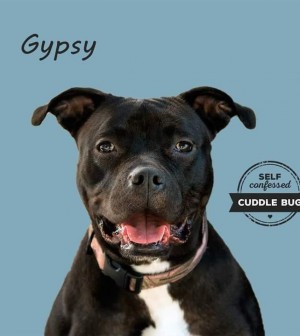 Sad stories are everywhere. This is another one, but you can help the story become a happier one.
Gypsy is a dog who has had a run of bad luck, but is looking for one chance to find her safe, forever home. Being dark-coated and a breed (Staffordshire Terrier) that's either banned or misunderstood by many makes it difficult for Helping Hand Rescue place her.
Rose of Helping Hand Rescue says Gypsy was rescued as a pup by bystanders over a year ago; she was being beaten in the street. Unfortunately, her original rescuers were unable to keep her for the long term. Now, three months after her resue, Gypsy spends her days being boarded, waiting for a home. Rose thinks Gypsy is right at two years old.
"She is a lover of people," Rose says, "but is selective with other animals. She is very sweet, fairly small in build, very sensitive and timid, but also very loving. She will melt anyone's heart and tries to please. We hope someone may have room in their heart and home for her."
Gypsy is already fully vetted. For more information on Gypsy, please contact Helping Hand for Animals and Rose at her email, helpinghandro@gmail.com.