Union Pacific Train Crew Rescues Blind Dog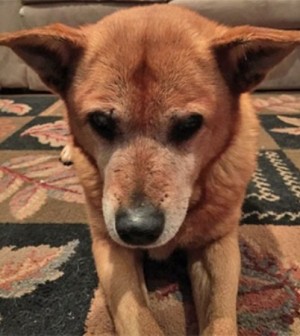 Union Pacific Railroad, based in Omaha and essential to the local and national economy, is a giant in the transportation industry. In Omaha, the company is known for hiring local people and valuing them throughout their careers. It's no wonder that this characteristic of its business model produced a wonderful story like this one.
(From UP Online, shared with permission from Union Pacific Railroad)
Train Crew Rescues – Dog March 13, 2015 | 11:00 a.m. CST
While approaching a siding near Eugene, Oregon, a Locomotive Engineer and Conductor saw something nestled against the tracks.
They stopped the train and prepared for what they might find.
"I thought it was an animal either injured or worse," said the engineer.
The crew was happily surprised when a 48­-pound, mixed breed dog arose with her tail wagging, uninjured. Worried for the dog's safety, they notified dispatching.
"This shows our guys in the field really do have the Courage to Care for all living things," said a U.P. train dispatcher.
When the engineer arrived home, he took the dog to the vet, discovering that she is 12 years old and blind. Despite the complications, he adopted her for his family. While wanting to name the dog "Lucky," his children insist on calling her "Peanut" for her love of peanut butter.
"The kids love her," he said. "She's a really sweet dog."
Good on the Union Pacific railroad workers for keeping an eye out and coming to the rescue of "Peanut." Do you have a heart-warming pet story you'd like to share? Use our "Contact" page, tweet us @petsinomaha or holler on Facebook here.