Upcoming Pet Events in Omaha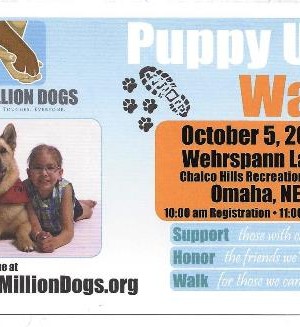 October is full of great pet events and below you'll find the next three we've got listed for you on our events page. For more pet events in October and beyond, make sure to take a look at our full page at petsinomaha.com/events.
Sunday, Oct. 5, 2014- Paws in the Garden
Come enjoy an afternoon in the Garden with your pup! From 1 p.m. until 4 p.m., bring your dogs to the Potting Shed at 5018 S. 153rd Street for some socialization and a great time. There will be a pet photographer, various vendors and a Halloween costume contest. To join the event, visit Paws in the Garden's event page on Facebook: https://www.facebook.com/events/1579994435559645/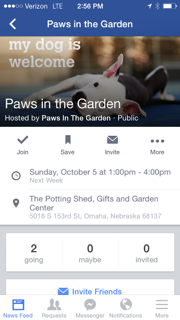 October 5, 2014- Puppy Up! Walk comes to Chalco Hills Recreation Area to combat cancer, raise funds for 2 Million Dogs
Coordinated by Paws and Whiskers Photography and Paws to Angels Pet Loss Center. Local dog lovers, in partnership with 2 Million Dogs, a national nonprofit organization that funds comparative oncology research benefiting both pets and people, will be holding the Puppy Up! Omaha Walk to raise funds and awareness of the common links between canine and human cancers.
Chalco Hills Recreation Area
Registration begins at 10:00am
Walk begins at 11:00am
Preregistration by October 2 is $20 per person; free for kids 14 and under; kids must be accompanied by an adult. Registration the day of the walk is $30 per person. Participants may bring up to two dogs each. All dogs must be 4 months or older, up to date on vaccinations and must be on a 6-foot or shorter leash at all times (no retractable leashes). Water for dogs and waste bags will be provided.
For more on the Puppy Up! Walk or to register, please visit www.2Milliondogs.org and search for the local Omaha walk. You may also contact Paws and Whiskers Photography (402-909-1382) or Paws to Angels Pet Loss Center (402) 507-0585 for additional information.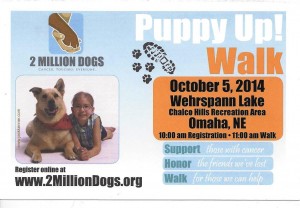 October 11/12, 2014 – Cat Show at the Ramada
Sandhills/Midlands Presents a Hotel Cat Show, October 11/12, 2014
Here are some details:
A Ten ring (8 AB, 1SP/SAB,1 SP PR/KIT SAB CH)
2 day 225 entry limit
Closing Date October 7, 2014
Ramada Convention Center
3321 S 72nd St, Omaha, NE
The show is being held to bring awareness to breast cancer and is sure to be an exciting event. See the flyer below for more details.