Update on giant Hearts United rescue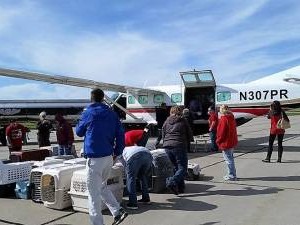 You may have heard about the large-scale rescue that Hearts United for Animals (HUA) executed last week; over 40 dogs were flown in to the rescue from the southeast portion of the United States that has been dealing with overcrowding in shelters due to unprecedented flooding.
The 40+ dogs who were sent to HUA were different. Typically, HUA dogs are mill-beaten, sickly, and last-chance-type pups. These dogs were transplanted to Auburn as a sort of dog refugee instead of the typical get-them-out-of-the-crappy-situation-they-were-in deal. So far, the news on health and success prognostication has been bueno.
"What a different rescue for us–no sick and terrified puppy mill dogs.  Just happy campers!" says Jill Longshaw of HUA. At the moment, the dogs are being tested for heart worm. It's been reported that 80 percent of dogs in the parishes the dogs came from were infected.
By all accounts, the bunch is a healthy one so far. HUA has reported updates and background in their blog. Below, you'll find a bit of the newest info HUA has reported.
On the morning of October 13, HUA received 38 very special deliveries.  Thanks in great part to Captain Peter Rork, co-founder of Dog Is My CoPilot (DIMC), and Take Paws Rescue in Louisiana, we were able to save these precious lives from certain death in over-crowded shelters in southern Louisiana.  The disastrous floods in August left hundreds of thousands of people and animals homeless.  Shelters were already bursting at the seams and the devastation put them far beyond capacity.  Stories in the news spoke of fast rising river waters causing animal shelters to hastily evacuate.  Horrified workers had no choice but to release dogs from kennels to let them swim onto rooftops. Foster homes were flooded as well and good people who adored their animals were forced to flee for their lives.
Once back at HUA, the dogs were carefully unloaded, given some cool, fresh water and were assigned their very own volunteers to take them for walks in the wide open fields.  They were thrilled to stretch their legs and smell all the new smells as we humans grinned from ear to ear watching these cuties having such fun out in the sunshine.
DONATE TO THE ANIMALS IN NEED at HUA
The Louisianans had been in shelters prior to this massive effort and faced certain euthanasia.  They had been in the shelters long enough that there was no hope of reuniting them with their families.  Take Paws Animal Rescue pulled these dogs from the brink of death and Peter Pilot brought them safely to HUA.  Their kindness and determination are to be commended and we are overwhelmed with gratitude.
This was a very different rescue experience for us here HUA.  No horribly sick or terrified puppy mill dogs, no dogs turned over by their families, no dogs that were out fending for themselves and starving in the streets.  The size of this group alone will make spaying and neutering costly.  Eighty percent of the dogs in the flood-affected parishes have heartworm disease and we expect to turn up quite a few positive tests.  Treatment for heartworms is long, ardous and expensive.  The good news is that the Louisanans are happy, silly, hopeful youngsters who are already having the times of their lives and receiving copious amounts of love.
October 13, 2016, was a beautiful day, made even more so by people's dedication to and compassion for animals.
As always, your support means the world to the dogs at HUA.  If you would like to help with the Louisianans' care, please consider donating.