Update: Local rescue recovering nicely after tornado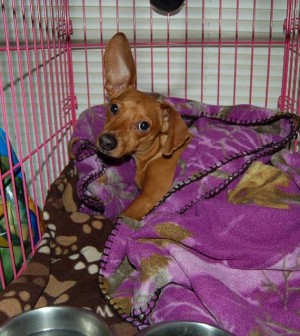 In May of 2014, we were made aware of a local rescue in Beaver Crossing called Husker's Hope and that it was affected by a tornado. The post we wrote was simple:
The Dachshund Sanctuary, Husker's Hope Dachshund Rescue, located near Lincoln, has been hit by a tornado tonight. They desperately need foster homes for dogs- many of these dogs have special needs. Vets, vet techs, experienced Dachshund folks and any other helping hands are needed.
The Sanctuary's director cannot currently be reached, but if you'd like to help (especially by fostering for the immediate future), go to their Facebook page by clicking here.
The Rescue can be reached at (402) 601-1068. Talk to Margo or Carla if you'd like to help or, again, contact through the Facebook link above.
Also, they'll surely need donations going forward. Click here to make a donation through their Web site.
It was (and still is) the most-read story we've ever published on Pets in Omaha. Thousands of readers saw the post and reacted. Comments on the post included many people who wanted to reach out, foster animals, and give time or money to the rescue. It's the reason we at Pets in Omaha do what we do. Our pet community is awesome.
Knowing how great the response was, we reached out to Husker's Hope this week in hopes of updating readers on the rescue nearly three years after the devastating spring storm. Here's what is happening in Beaver Crossing today.
"(There's)too much to tell, but our rescue has been very blessed," says Carla Chapman, President and Founder of Husker's Hope. "We have expanded both our rescue space as well as running space for the pups. We have become one of the only rescues in the U.S. that specializes in Dachshunds and other specials (smaller breeds) with back injuries."
Called "the best kept secret in Nebraska," Husker's Hope is not just another rescue. "We are more than only a Dachshund Rescue and are now being sought out by families across the country." In fact, Husker's Hope has worked with families from several countries. "It is amazing.We are very proud of our rescue and the difference we make in the lives of dachshunds, rescues, shelters, and families who, before now, had no options or hope for those that are broken."
We should all be proud of Husker's Hope and the impact it has had on people and animals it has touched. Not only has it bounced back from its harrowing time three years ago, Husker's is back and better than ever.
"We just raised funds and purchased ten walking carts for some of our fur kids and are getting ready to do the same for about 12 more," Chapman says.
The rescue continues to do great things for little dogs with big needs. If you'd like to help the rescue, visit the group's
Facebook page
and also its website. There are a number of ways to help, even options on where your donation dollars go.
Click here for more.