Update: Puppy Mill Survivors thriving with Hearts United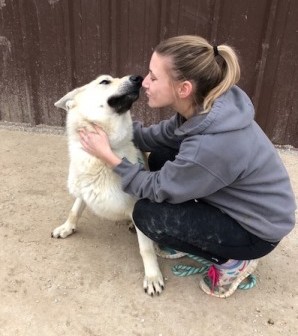 On April 9, we told you the story of 39 dogs taken out of a failed puppy mill. Their rescuers, Hearts United for Animals (HUA) and other area humane organizations are working diligently to bring the survivors into the world outside their wire cages and filth. Here's a snippet from that article for you to get a feel for what rescuers found:
An urgent call came in to the HUA office. A local sheriff was in the process of closing down a horrific puppy mill housing 39 dogs that were living in dreadful conditions. They were outdoors in the cold, muddy and filthy. Ten dogs were so sick that the veterinarian called in to assist was forced to immediately euthanize them to put an end to their misery. Another had already died before the vet arrived.
We gave an initial update on the glorious event that was bathing the dogs-  here's the latest from HUA (April 8, 2018):
"The Pyrenees, whom we call Pearl, is so kissy and makes up to people like nobody's business.  A beautiful and sweet big girl. We've finished up with bathing and will move on to med checks and maybe some more thorough grooming this week.  All of the pups (with one exception – a scaredy cat who we're letting come around on his terms)  are friendly and loving.  They're doing amazingly well on their leashes and enjoying the company of the caregivers and slew of volunteers getting to know them.  We're really astonished at how at ease they are with people.  Just goes to show you how badly they were craving human interaction and affection.  We've received a lot of support for these grand animals and are just so very grateful."
Photos in the gallery below include some of the rescued dogs HUA would like you to meet. Markel is pictured above in the feature image.
Support for these animals and the work that HUA does with them and many others has been great thus far, but the vet bills and grooming costs always pile up. If you are able, we encourage you to help HUA execute its mission of saving these dogs and others. To donate, visit www.hua.org.