Urgent Pet Care to open new "West" location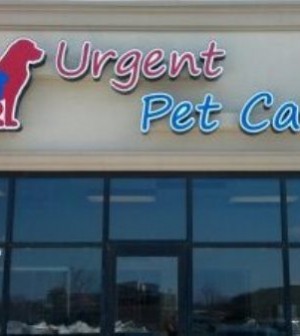 Urgent Pet Care of Papillion is pleased to announce the opening of a second clinic in the Millard area.  Urgent Pet Care West is located at 4257 So 144th St in the Southwestern Plaza next to the Pinnacle Bank. The new location will be officially open on November 2, 2015.
Debbie Newhouse of Urgent Pet Care said UPC felt the southwest community  needed to have a place to take their pets in an emergency situation that is closer than their current location at 73rd and Giles.  "Urgent Pet Care West will operate under the same mission to provide caring, compassionate, and affordable emergency services when your family veterinarian is closed," Newhouse says.  "Joining the Urgent Pet Care team are Doctors Scott Yonker and Emily Buhr; the two have over 20 years of combined small animal emergency and critical care experience.  Dr. Yonker is a highly skilled surgeon and Dr. Buhr enjoys working with Ultrasound and exotic pets."
Urgent Pet Care West is equipped to handle any medical or surgical need your pet may have, such as lacerations, limping, fractures, gastrointestinal issues, coughing, and many other issues.
Urgent Pet Care West is open nights, weekends and all major holidays. Although it does not see patients all night long, any patients requiring overnight monitoring are attended by a licensed veterinary technician and veterinarian at all times. The clinic hours are Monday-Friday 5 pm-1 am, Saturday noon-midnight, Sunday/Holidays 10 am-10 pm.  No appointment is needed, but it is helpful to call before coming in for a visit.
For more information or to contact UPC for your animal, Debbie Newhouse (LVT, CVPM, MBA) can be reached at 402-991-9444 or 402-597-2911. You can also email her at urgentpetcare@urgentpetcareomaha.com.
Congratulations to UPC for its second location!