Vetting Vets for Your Pets? You Bet. And You Should, Sooner Than Later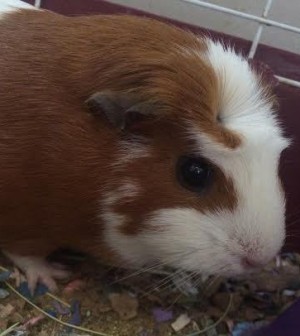 Not all vets treat all animals. As with humans, many specialize in such areas as canine, feline, bovine, equine, large animals, small animals, pocket pets (mice, gerbils), avian, etc. One size just doesn't necessarily fit all, which is important if you find yourself in the position an Omaha 12-year-old found herself in recently.
Her name is Tayler, and she was clearly upset when she called her grandpa late one afternoon. "Papa, something's wrong with Lucy," she said.  "Her front teeth fell out, her mouth hurts, she can't eat and I'm afraid she's gonna die. Can you find someone who can help?"
Clarification: Lucy is one of Tayler's pet guinea pigs — the other is Lilly — and she dotes on these little critters. She reads about them and studies how to care for them, and she's a responsible pet owner. So, when Lucy's front  teeth suddenly disappeared, Tayler was worried. She also figured grandparents can do about anything, including finding help for a hurting small animal, and so she called her grandpa. Who didn't honestly have a clue about what to do.
Clarification: I'm grandpa, and I know absolutely nothing about guinea pigs. Cats and dogs we've had, but even they've presented mysteries for my wife Angie and me.  For example, we adopted our first dog…Kacee…from the Humane Society about eight years ago. We've since learned that dogs have thyroids, for crying out loud. I didn't know that, but we learned the hard way when tests showed our pup, Kacee, had a thyroid that was way out of whack. She now takes thyroid medicine every day.
All this is simply to point out that Angie and I know enough about pet care to keep our pups alive and healthy (okay, our vet actually knows all that), but guinea pigs? Nothing. Zip. I didn't even realize they ever needed professional care but, as Tayler's situation shows, they do. So, after Tayler's frantic call, I began calling around. A lot of veterinary offices had closed for the day. The vet who cares for our dogs doesn't treat small animals. I thought every vet treated every kind of animal. Obviously not, but we're still in the relative early stages of pet ownership, so we have a lot to learn.
So, after several calls to different veterinary offices, I found Best Care Pet Hospital in southwest Omaha, and small animals are among their patients. We made arrangements for our daughter (Tayler's mom) to take Lucy to Best Care early the next morning while taking Tayler to school. My wife, Angie, picked Tayler up from school and they went to pick up Lucy from Best Care. Tayler hoped for the best, and got it. Dr. Michael Siggers told Tayler that Lucy wasn't fatally ill and wasn't going to starve to death…she had apparently fallen and simply knocked out her front teeth. His instructions were to make sure Lucy had hay, food pellets and soft vegetables to eat, and plenty of water until her teeth grew back. My wife said he was very kind and attentive in explaining the situation to Tayler. In fact, he actually called a few days later to see how things were going with Lucy, which did a couple things: it made Tayler feel good that he cared enough to do that, and it impressed upon her that if he took Lucy's ailment that seriously, so should she.
So, what's the point of this rodent's tale? Well, all of this started me thinking about veterinarians and the animals they treat. How do you find a vet who meets the needs of your pet, large or small, and, by extension, your needs as a pet owner? For those who love their pets but who may not be real experienced pet owners, it's often a big deal, and the onset of an emergency, whether it's a sudden illness or an injury, is not the time to launch your search.
But how do you choose from the many excellent vets you'll find in the phone book or on-line? Obviously, check and make sure the vet you're considering treats the kind of pet you have. Then, consider the following suggestions from the Humane Society of the United States:
What to look for in a veterinary practice
Is the facility clean, comfortable and well-organized?
Are appointments required?
How many veterinarians are in the practice?
Are there technicians or other professional staff members?
Are dog and cat cages in separate areas?
Is the staff caring, calm, competent and courteous, and do they communicate effectively?
Do the veterinarians have special interests such as geriatrics or behavior?
Are X-rays, ultrasound, bloodwork, EKG, endoscopy and other diagnostics done in-house or referred to a specialist?
Which emergency services are available?
Is location and parking convenient?
Do fees fit your budget, and are discounts for senior citizens or multi-pet households available?
And I'll add one here…do you like the vet and the people in the office? That can be important to fostering trust and good communication. And, according to the Humane Society of the US, understand that you, as a pet owner, have responsibilities when it comes to being a good client.
For example:
Take your pet regularly for preventive care visits, not just when your pet appears ill. "With many of these small and exotic pets, an illness can be pretty far along before they show any symptoms," said Dr. Siggers. "That makes preventive care even more important."
Practice such common courtesies as being on time for appointments. While that seems obvious, it ain't necessarily so to new pet owners, or even to some long-timers.
For more, check out http://www.humanesociety.org/animals/resources/tips/choosing_a_veterinarian.html
Finally, Dr. Siggers suggests that owners of any type of pet take the time to become familiar with their small friends. To help in that regard, his practice offers a client resource at http://bestcarepethospital.net/client-education/.  www.petmd.com is also a great site, offering a great deal of information about a wide variety of animals, and there are, of course, many other good resources  available online. And, importantly, a pet  owner's own veterinarian should be right at the top of the list of trusted sources about the health of a pet.
Whether your pet is large or small, your affection for your animal is often king-sized, and you want to make sure it gets good medical care when needed. Tayler and Lucy were fortunate to find such care on short notice, and Tayler learned some good lessons in the process. As for Lucy…she's fat and happy and buck-toothed once again.