Dogs on Adventures -Walnut Creek Lake, Recreation Area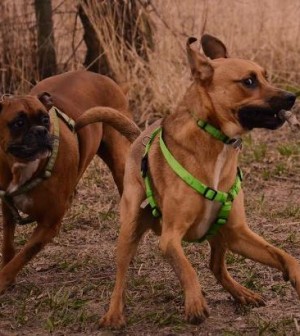 It's your day off. You're ready for an adventure. Your dog's standing at the door with his leash in his mouth. He's definitely ready. Nature is calling, but time is limited. Where can you go?
Imagine this: stretched out in front of you and your pup, 450 acres of Nebraska Prairie. A gentle breeze rustles through Fido's fur lifting the sweet smell of lilacs. The fresh air fills your lungs. As you breathe out, the stress of your day to day evaporates. The lake is like glass. A family of ducks lazily glides through the sun reflecting onto the water. You and your pooch are pioneers gearing up to explore Nebraska Territory. Seventy percent of the 450 acres has been left untouched and will remain that way.
The first treasure you and your pup discover is a three acre off-leash area for running, jumping, playing and getting all those wiggles out. The area is fenced on three sides with, (Labradors pay close attention) a small lake on the fourth side. With summer quickly approaching, this is the perfect spot for a nice cooling swim.
After some off-leash fun and a dip in the watering hole, it's time to leash-up. Let's hit the trail! Walnut Creek has a 3.1 mile paved loop trail that circles the lake. Trailblazers, if you're looking to expand, it connects to other city trails via the 96th Street Trail and a tunnel under Highway 370.
By now, if you're anything like me, you're hungry! Good thing we packed a picnic! Along the loop trail, you'll spot four large picnic shelters and playground sites. Three of these shelters are first come, first serve. The fourth can be reserved for events, such as, your fur-kid's next birthday party (hint, hint) by calling, (402)597-2041.
After lunch, my guys, Paco and Cappy love to look at the "Big Dogs" also known as horses. Swing by the five-mile grass Equestrian Trail for some serious "Dog Watching." It's a must.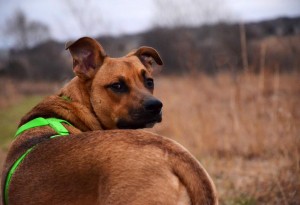 The lake is packed with bass, blue gill, crappie and sunfish. "The bass are always biting out here," said a guest who regularly fishes at Walnut Creek. I spoke to another guest who said, "My favorite thing about Walnut is that it's a pack in, pack out park – look how clean it is here!" That means you take whatever trash you make. She's right, the park is immaculate. Way to go park users!
Next time, consider extending your stay. The RV Park is equipped with 44 concrete sites (30 or 50 amp), city water connection and dump station access. Sites are $16.00 per night with a two-week limit. For more information, (402)697-9889.
Enjoy your Walnut Creek Lake and Recreation Area adventure. You and your pup will love it. Make sure to say "Hello" to Paco, Cappy and me. We'll be there.
Hours: 6:00am – 10:00pm
Location: South of Highway 370 and West of 96th Street.