Will you vote us Best of Omaha for Local Website?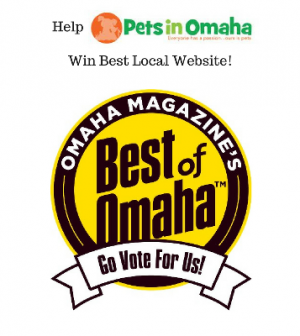 Each year, Omaha Magazine publishes a list of products and services deemed "Best of Omaha." It's a cool thing to be recognized by a known magazine like Omaha and even cooler to be voted Best by citizens of our fine city. A number of our friends and partners have been voted Best in the past and we'd love to see whether we could share in the love!
One category up for grabs is Best Local Website. Last year, KETV.com and Omaha.com were tops on the list. Those are oft visited and great looking sites. Pets in Omaha is a site created locally, managed locally, hosted locally, and curated by just a couple of Omahans who love giving you the best in pet news and information.
If you'd like to show your support, here's how this all works:
1. Visit www.omahamagazine.com
2. Register to vote by clicking the Best Of button. You can get to that page by clicking here. 
3. Check your email and click the link provided. You'll then be taken to a sort of "write in" ballot. There's a quick vote code (76933) you can enter to find us quickly! Also, here's a quick vote web address: http://www.BestofOmaha.com/76933 

4. Vote for a minimum of 15 categories. Again, we're shooting for "Local website." While you're there, vote for your favorite humane organizations, pet supply stores, pet boarders, and more.
5. At the bottom of the screen, click the "Done Voting" button to finish.
Voting runs between July 1 and August 20, 2017 and the voting system works on your phone, but a computer or tablet is easier. Only one vote per email is allowed, but you may return as often as you like to add to, or modify, your ballot. Results are announce by Omaha Magazine in November of 2017. 
If you vote, let us know! We'd love to have any support and we encourage you to vote for your favorite pet-loving, pet-related businesses too.