Weekend Events (July 20-22, 2018)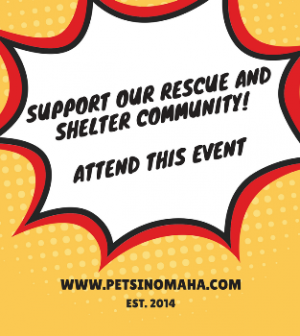 If you're looking for a pet event to attend in the future, your first stop should be the Pets in Omaha Event Calendar! Find it by visiting www.petsinomaha.com/events and keep an eye out for featured events on our Facebook page and in our always original content on Pets in Omaha.
Here are a handful of events we'd recommend attending this weekend, July 20-22, 2018!
Once in a while, we'll promote an event that's not animal-related to showcase our community and friends. We had such a wonderful experience at Ralston Arena last weekend for the Pets in Omaha Pick a Pooch Adoption Days and Pet Expo that we'd love for you to check out a show at the Arena. This Friday, see what's being called the world's greatest Pink Floyd show, Brit Floyd. It's at Ralston Arena on the 20th- more information can be found here.
Wake up after the show Saturday morning and head out to Long Dog Fat Cat (either the 90th and Center or Village Pointe location!) to meet volunteers and adoptable animals from Hands, Hearts, and Paws, one of the area's favorite rescue organizations. The meet and greet events start at 11 am and end at 1 pm.
The meet and greet events (one of the best ways that rescues show off their adoptable animals) don't stop Saturday morning! Check out a couple more this weekend. Details are below!
From noon until 2 pm on Sat. July 21, join Muddy Paws at PetSmart (17035 Evans Plaza)
Pug Partners will be at Nature Dog from 1-3 pm on the 21st as well. Nature Dog is located just west of Bakers at 132nd and Maple.
Finally, Sunday features another meet and greet at Long Dog Fat Cat (169th and Burke) with All Hound on Deck from 1-3 pm.