What's a rescue meet and greet? Where can you find them?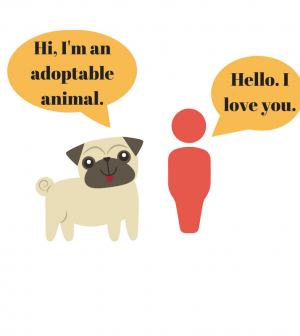 One of the most common pet events we highlight on Pets in Omaha is the meet and greet with local rescue organizations. If you've been to one or participated on behalf of a humane organization, you know. If not, there's a quick and informational post with details and the best way to find these fun and educational events.
First, it's important to know that most rescue groups don't have a physical location to keep, care for, and share animals with the public. The Nebraska Humane Society, Midlands Humane Society, and Town & Country Humane Society have static locations where people know to visit and meet animals. Rescues rely on foster homes to house its animals. In foster homes, animals learn to be social, accept love and care, and prepare to become adoptable.
That said, rescues need a place where the public can meet adoptable animals, learn about the adoption process, and get to know the folks who care for animals that need homes. More often than not, these things are accomplished in one of a couple of ways. Groups bring volunteers, animals, and information to events around town to be more visible. One such event is the annual Pets in Omaha Pick-a-Pooch event at Ralston Arena. Another way to get out in the community with adoptables is through the Meet and Greet.
What's a Meet and Greet?
For a couple of hours, rescue volunteers will bring themselves and adoptable animals to a place in town that supports pet adoption. The location is often a humane pet store like The Green Spot, Long Dog Fat Cat, Nature Dog, Woof & Whiskers, Pets Earth and the like. The public is then invited to attend, learning all about the rescue, its mission, its adoptable animals, and how to become active in supporting pet adoption. Adoptions typically don't happen at meet and greets, but folks can learn how to start the application process. Volunteers are also there to distribute information about adoption requirements, fees, and more. The meet and greet is the first, best step in becoming an adoptive family to a displaced animal.
Where can you find out about upcoming meet and greets?
If you follow rescue groups online, on social media, or are part of the pet community, you'll hear about events. Calendars list events and give information visitors will want before attending. As stated earlier, Pets in Omaha spends much effort in communicating event information to readers and our events page is always a great place to get plugged in- especially to meet and greet plans.
Click here to find our Events page!
This weekend, April 28/29, 2018, for example, features meet and greets at both the Loveland (90th and Center) and Village Pointe (169th and Burke) locations of Long Dog Fat Cat. Hands, Hearts & Paws, one of the area's most-loved rescues, will be in attendance with adoptable animals and volunteers from 11 am until 1 pm.
Make sure to keep an eye on our events page as we'll continue to bring you details on upcoming meet and greets, fundraisers, and other pet-friendly events in our community!