After five years, pet-friendly The Potting Shed to close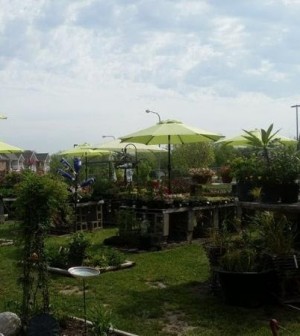 Just last week, we told you about the sad story regarding Three Dog Bakery and its closing after nine years of operation in Omaha. From the readership we saw, it's clear that Three Dog Bakery impacted a lot of lives in Midtown and at Village Pointe. Folks are surely still reeling from the unfortunate happenings.
And just today, we learned that The Potting Shed, located at 5018 S. 153rd Street in Millard, is closing. Though it's a different business from Three Dog Bakery, The Potting Shed has been a sponsor on Pets in Omaha for two years, has been a very pet-friendly place, and a local business that made dogs part of their focus. Paws in the Garden has been a popular event for The Potting Shed- a sort of small, local expo featuring local rescues and the wonderful garden that The Potting Shed can boast about.
Here's a bit from the newsletter The Potting Shed and Amy Weir released, announcing its closing:
"Hello Friends…
This is probably the hardest Newsletter I have ever had to write. But with every sad ending…is a new beginning. My new beginning already started with the opening of my new bar, Therapy, last August. I thought I could be a superwoman and run both but I have found that there are just not enough hours in the day!
It is with a heavy heart that I let you know that after five growing seasons, I have decided not to renew my lease in May, so The Potting Shed will be closing this month. That is unless someone wants to come in and buy out my inventory and continue the life of The Potting Shed.
**If you are potentially a serious buyer, please contact me ASAP. I hate to close down the garden as it is just getting to be so big and beautiful!!

(Email The Potting Shed at thepottingshed2012@gmail.com, find them on Facebook here, or call 402-934-7433)
We, meaning Sadie and I, have been so thankful for all your support over the years. We cannot tell you how much we have loved getting to know each one of you and forming some great friendships and memories.
We will continue doing classes in February at The Potting Shed, with a new location (at Therapy Bar & Grill,5059 S 108th St.) coming soon. How about a little "Art" Therapy?
I will also be continuing the Garden Divas .
The Garden Divas is basically an email list that I send out an invite to go see someone's beautiful garden. They are at various times & locations during the summer. No dues, no meetings, just an email with an address and a time. If you are already on the email list great, I will keep you posted. If not, email me at thepottingshed2012@gmail.com with Garden Divas in the subject line.
EVERYTHING  Is NOW 50% off  and it will NOT go any lower!!
Come in for the best selection now. Once it is gone, the store will be closed.
And as always….
Thank You for supporting The Potting Shed for the past 5 years.
-Amy and Sadie"
Thanks to Amy for helping to support Pets in Omaha for the last two years. And thanks to The Potting Shed for providing a unique, urban garden experience for Omahans. Get out and take advantage of sales, inquire if you're interested in keeping the garden alive, or just stop by to say thanks and goodbye to Amy.